Gossip Rant Chat Wa gwan Breaking Scandal Hot off the press Bulletin Dispatches Nachrichten
There's nothing better than a good gossip.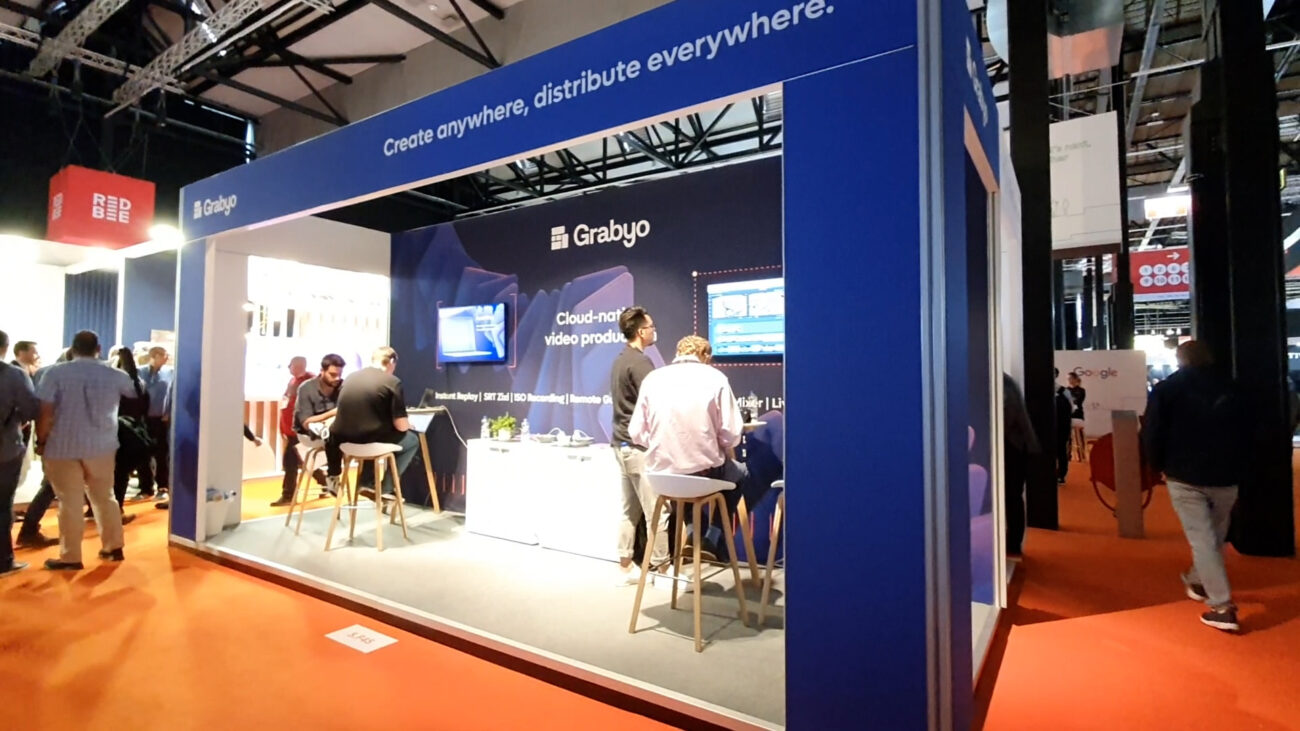 Grabyo launch at IBC 2022
The Fold had the great pleasure of joining our friends at Grabyo for the brand launch of their new cloud-based broadcasting service at IBC 2022 in Amsterdam. The International Broadcasting Convention (IBC) is a community-driven platform leading the way for global media, entertainment and the tech industry. With a focus on video production — this is the place to be seen and heard. With over 1,000 exhibitors and 37,000 visitors from over 170 countries, it was time to set the lights and roll the digital film — Grabyo launched.
A rebrand ready for launch
We first met the team at Grabyo when they invited us to rebrand their exciting product ready for launch at IBC. A full new treatment and rebuild of the brand was delivered and all hinged upon a big idea.

Grabyo is an industry leading cloud-based platform that puts powerful video production tools at your fingertips. Allowing users to create live productions, events, highlight reels and video clips from anywhere in the world, using just a web browser.
Check out our full case study to find out more.
What's next? Designing the future together
It was a real privilege for The Fold to join Grabyo for their launch event and witness the new upcoming trends for video production, content creation and technology.

IBC hosted over 250 speakers at the event with leading visionaries all tackling the question of 'What's next? Designing the future together.

So what is next for media, the broadcasting network and tech world?

Streaming is a key part of how we consume content and media and over the past few years this has continued to exponentially rise. Of course for the consumer this has been seen across common platforms like Netflix, Amazon Prime and YouTube. But for the studio, the creative or the video producer this has offered unique opportunities that once didn't exist.

The remote studio and the adoption of virtual sets are becoming ever more popular due to the endless possibilities they offer and low production costs involved. With large broadcasting giants such as the BBC, the virtual studio is a superior tech platform to deliver bespoke immersive experiences to an engaged audience that offer unrivalled production quality and control.

The conventional approach of recording on site still has its merits and will never cease. This form of production for a client can be costly, including location hire, talent scouting, film crew, directors and much more. The remote studio approach offers more sustainability and further reduces the carbon footprint.
How The Fold use remote recording services
The video production sector is constantly evolving and adapting to meet the high expectations of our clients and to adopt the new technologies that are revolutionising this sector. We've had the pleasure of working on many high profile remote recording projects with our clients. We know they offer fantastic value to our clients and open the door to explore creativity to deliver high end products for our partners.

Our clients are continually interested in the use of remote recording and streaming possibilities without degrading on quality. It's hugely important to us and our clients to produce high end motion graphics and video production services without compromising on video capture quality.

It's a common misconception that recording remotely degrades output quality. With the recent adoption of ground breaking software, making use of new technologies, this isn't the case. Our approach at The Fold enables us to capture in camera quality and RAW audio. This is the same as if we were in the room ourselves recording with a camera. The only real limitations are the cameras we're using but this again can be controlled easily by shipping high quality webcams to our team to keep quality levels high and keep production levels consistent.

That's why we use specialist software that allows us to capture high quality video and audio. This means we can film in several countries across the globe in only a few hours. Time travel is not only the new possible outcome of this tech revolution. We understand how busy our clients, partners and teams are. Remote recording gives you more flexibility and buys you the time to focus on what's important.

So it came with no real great surprise to us at The Fold that this offering was a central focus at IBC 2022 for both clients and creatives alike. Globally we've seen a social shift in the way we approach life and business and ultimately this has lead to a world wide adoption of remote recording and streaming services.
We like to talk
Do you have a project in mind? Let's chat, we're always keen to discuss new opportunities and learn more about you and how we can help define your business and increase ROI.