CHEP
COUNTING THE COST SAVINGS OF ETHICAL LOGISTICS
CHEP – a world leader in logistics, containers, storage systems and services - manages, maintains, transports, and supplies more than 300 million platforms for their customers that are shared and reused by growers, manufacturers, distributors and retailers. Pooling is a sustainable method of resource management where pallets and storage solutions are held by CHEP and supplied to customers on an as-needed basis, cutting down on waste and impact to the environment. The Fold created a web app to demonstrate the environmental and financial savings of the pooling process to prospective customers – as measured in cost and carbon emissions.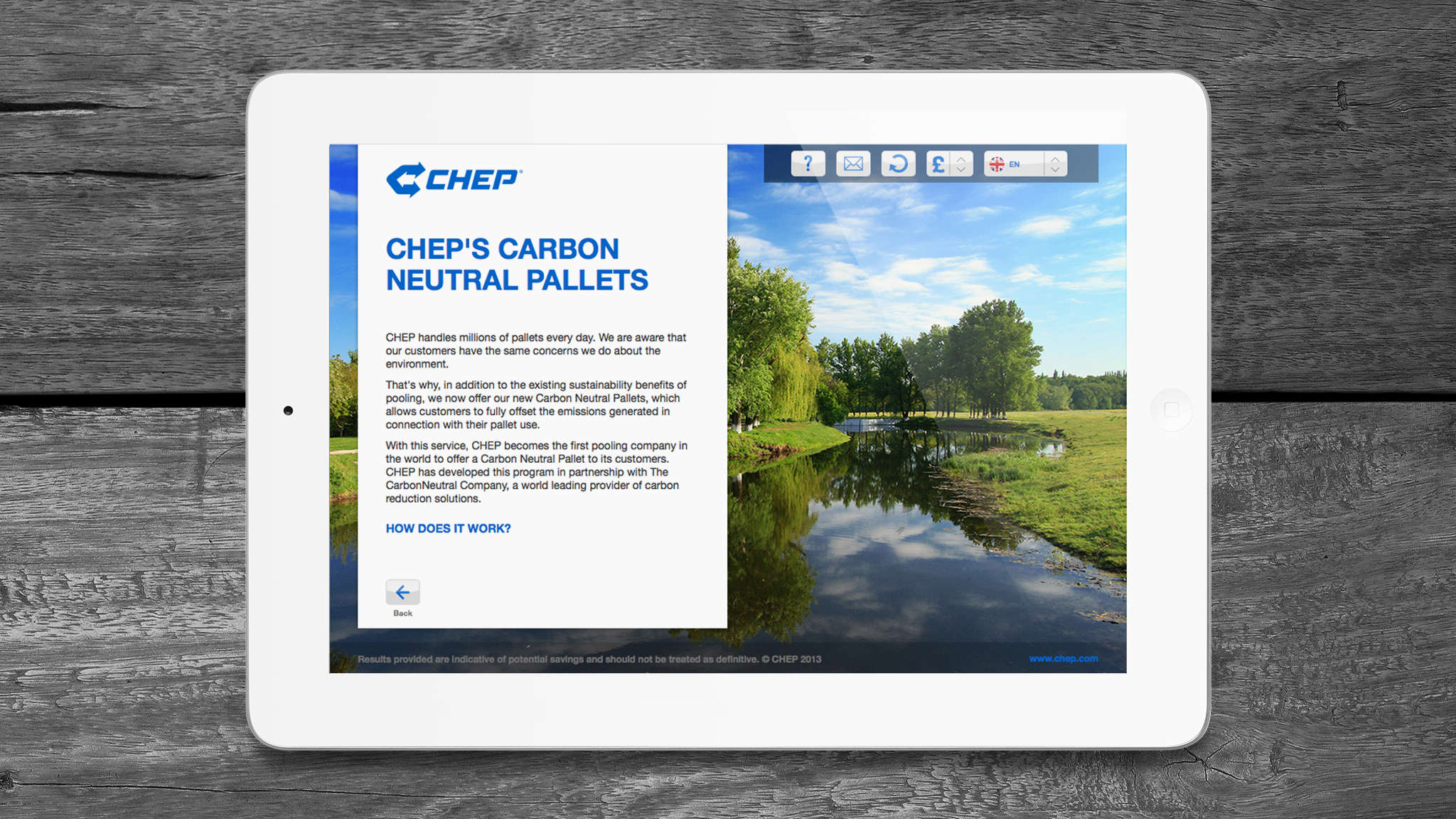 THE CHALLENGE
As a supplier to hundreds of different businesses across a huge range of market sectors, the savings and environmental benefits that CHEP's pooling services can offer are as varied as the customers they serve. In addition to this, the concept of carbon savings and environmental impacts can be complex and difficult to appreciate in the context of a sales conversation. How then, could the Fold equip both customers and CHEP sales personnel with a clear and simple method to explain the process and demonstrate the benefits in a compelling way?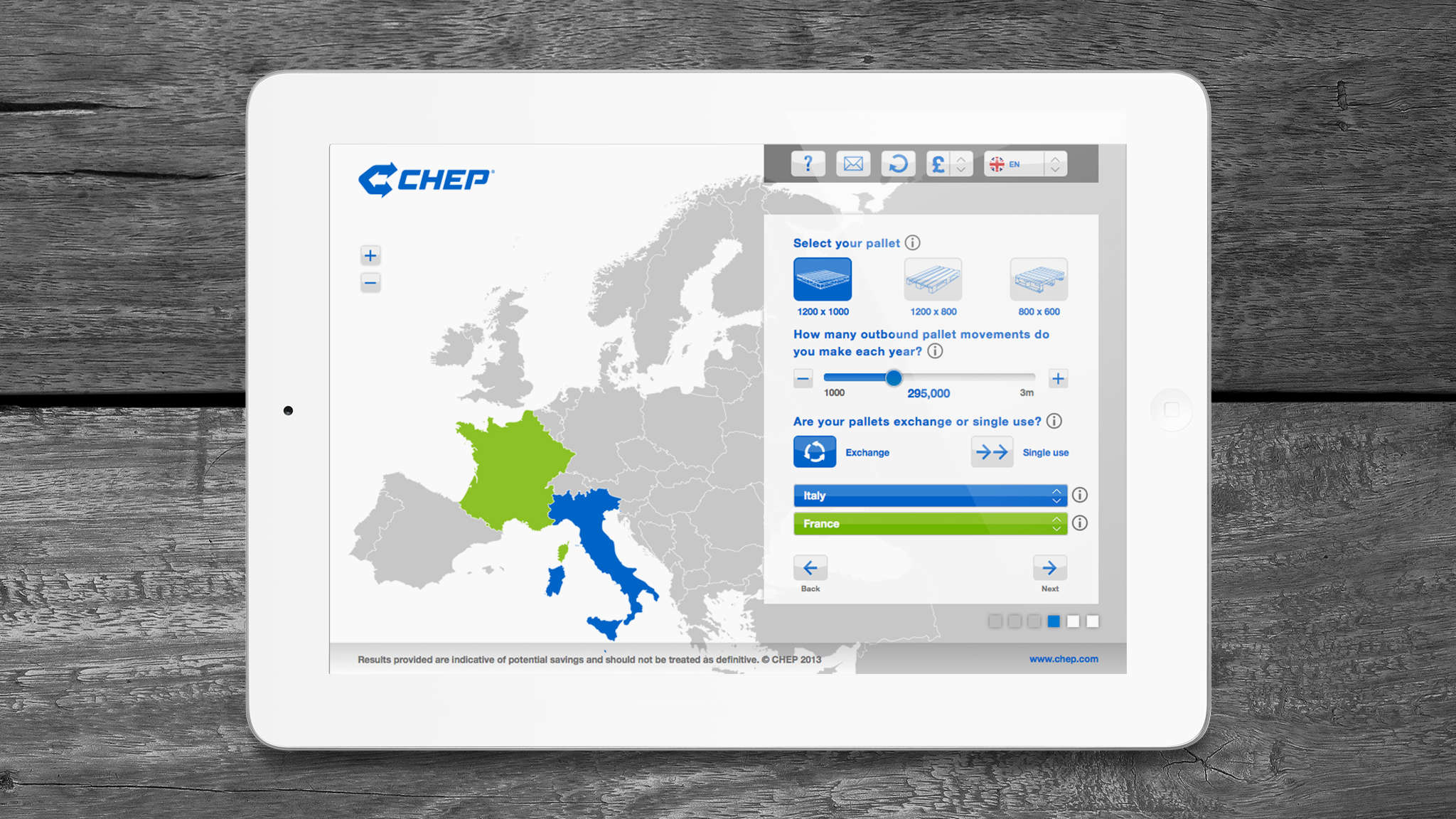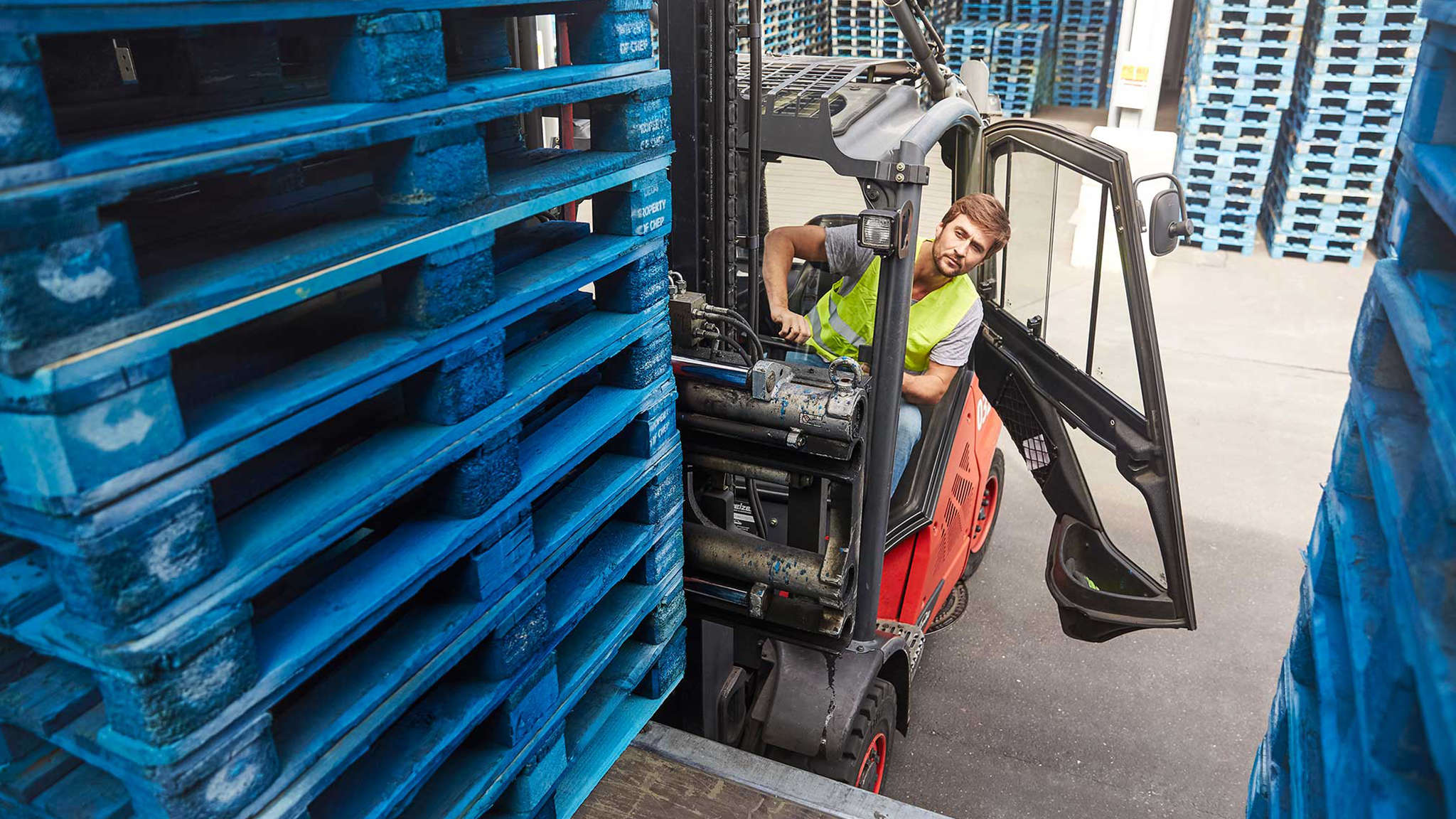 THE BIG IDEA
Reviewing the process, with examples of specific CHEP customers, lead us very quickly to confirm that a custom process was the way to go. We would create a platform where customers could provide specific details of their business, current costs and scope of their operation, and the platform would then provide a bespoke estimate of the environmental and resource savings that they could make by signing up the CHEP's services.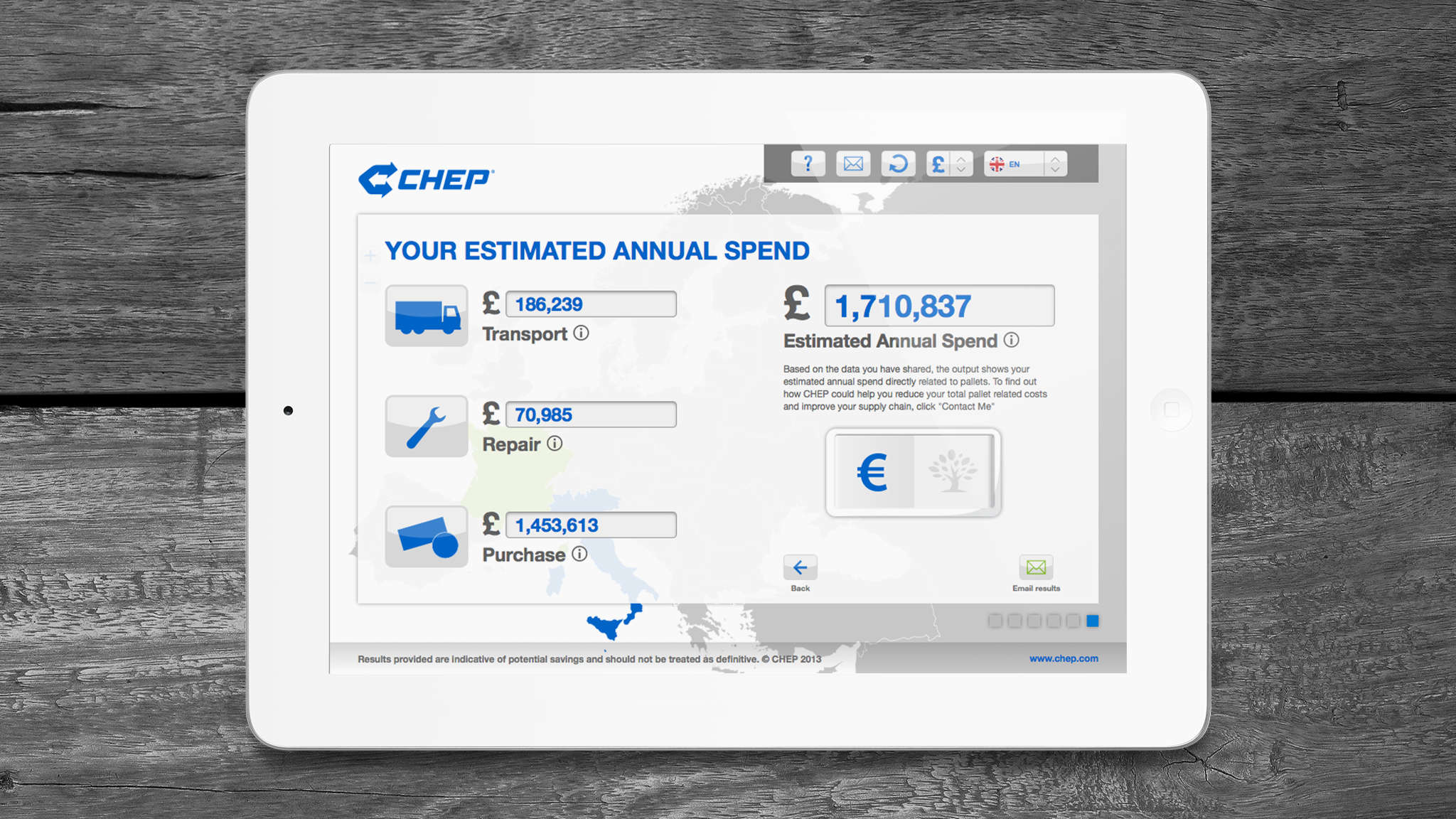 THE SOLUTION
The 'Power of Pooling' web app was made with universality in mind. It works across all web browsers and operating systems – it consists of a set of five or six straightforward questions about the customers' operation, which then results in an online and email report that the customer can save for further investigation. A copy would also then be sent to CHEP so sales personnel would have a complete understanding of the customers' business before any follow-up conversations. The app can also be used as part of a guided conversation with CHEP sales personnel for a simpler and cleaner pitch.
All aspects of the app were made in-house by the Fold, from design and development to front-end and back-end services. This single point of contact allowed us and CHEP a faster response to feedback and design iterations, and a quicker overall implementation process.
BEAUTIFULLY EFFECTIVE IDEAS
"The Fold have successfully converted a sophisticated technical environmental study into a simple user friendly tool that our customers use to measure their environmental benefits from working with CHEP"
Iñigo Canalejo Lasarte, Director, Sustainability EMEA, CHEP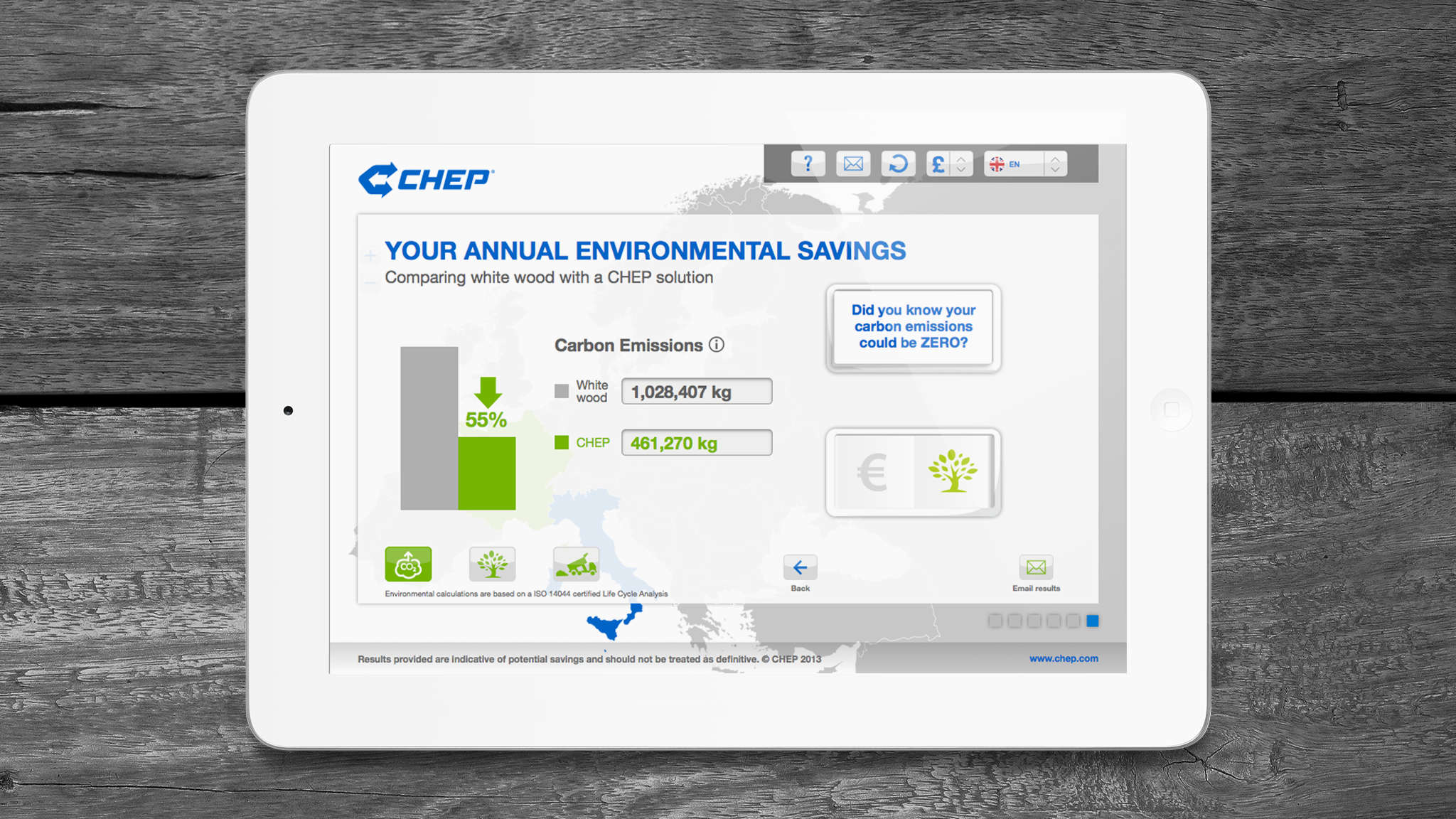 THE RESULTS
The tool has been invaluable in CHEP's new business efforts, converting new accounts initially Europe wide. As a result of this success CHEP have recently rolled this out across Latam with plans to further expand the tool to other territories.
WE LIKE TO TALK
If you'd like to learn more about how we can help you present complex business solutions simply, clearly and effectively, have a chat with us today.